Discover more from Pirate Wire Services
Frontlines Indy journalism on Latin America
Over 1,000 subscribers
Despite 67 protester deaths and an approval rating of 15%, Boluarte likely to hang on to power in Perú
Dysfunction and brutal crackdowns, unlikely alliances, and a deeply unpopular Congress have allowed her to accomplish what her predecessors have not— stay in office
Welcome back!
We are beyond pleased to give the helm to Paulo Rosas Chávez this week, who is recently returned to Argentina from Perú and is back on board our vessel at PWS.
This week he explains how President Boluarte in Peru has managed to hang onto power despite an abysmal approval rating, ongoing protests, and being abandoned by her own party, who recently tried unsuccessfully to remove her from office.
For more details, sail on with us to this week's feature!
Editor's note: *due to some miscommunication about when to hit "send" among three pirates working to put this together, the newsletter incorrectly stated that Boluarte has an approval rating of 22%. We have corrected this on the website and apologize for the error*
Despite 67 protester deaths and an approval rating of 15%, Boluarte likely to hang on to power in Peru
Dysfunction and brutal crackdowns, unlikely alliances, and a deeply unpopular Congress have allowed her to accomplish what her predecessors have not— stay in office
On Good Friday, April 6. Around 4:30 in the afternoon, police officers burst into the Plaza de Armas in the city of Ayacucho in southern Peru. Equipped with helmets, clubs and shields, they surrounded the regional government headquarters. Without explanation, the riot police pushed into a group of artists who were working on a floral carpet in an act of peaceful protest. As they scattered the artists with force, police trampled the message spelled out in flowers on the ground of the plaza — the Fifth Commandment: "Thou shalt not kill".
The Ayacucho artists were making the carpet in homage to the ten people who died in the city during protests on December 15, 2022, as a result of police and military repression. One of them, Christopher, was 15 years old and died when a police bullet went through his thorax.
Albert Barrios, one of the artists present, told Pirate Wire Services that after a few minutes of confrontation with protesters, police decided to leave and the artists were able to finish their work in the plaza. But in the evening, when the traditional Good Friday procession had concluded, officers returned and "began to push all the people guarding the carpet."
"They erased the whole message," he said. They walked, scraping the floor with their shields. The population started shouting 'murderers' at them."
Barrios said undercover police officers photographed the artists who made the carpet. "If something were to happen to those of us who made it or to the people who went out to protest, it is the fault of this government", he said, "in Peru, there are no guarantees of a peaceful life".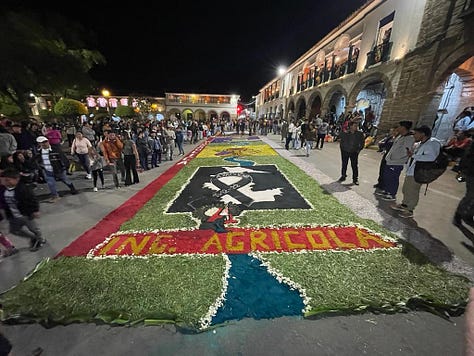 The protests go far beyond Castillo
The December 15 protests in Ayacucho were one of hundreds of demonstrations that rocked the country after a failed "self-coup" perpetrated by Pedro Castillo resulted in his removal from office, and his subsequent arrest by Congress. Violent police repression of the protests, and the deep unpopularity of the government as a whole, allowed protests to spread to nearly every corner of the country— actions which included road blockades and massive demonstrations in the capital, Lima, that lasted months. 
Although early slogans of the protests defended the regime of Castillo -who was arrested as he tried to achieve asylum in Mexico-, the tenor of the demands changed amidst brutal police repression. By January signs were less overtly in support of Castillo, and more against Parliament and the new president, Dina Boluarte. "Everyone must go", became one of the principal slogans shouted by protesters, and one that often appeared on the hand-made signs of those attending. 
According to the Ombudsman's Office, 67 people have been killed in the context of the demonstrations. Of the 49 civilians who died while exercising their right to protest, at least thirty were killed by police firearm projectiles, according to autopsies obtained by the Associated Press.
In mid-March, The New York Times published an exhaustive report revealing that Peruvian security forces responded "with excessive force" to anti-government protests. The coverage, which analyzed hundreds of videos and images, concluded that shotguns with "less lethal" munitions and in some cases even assault rifles were used against "fleeing protesters" and "unarmed people hundreds of meters away."
In addition to the deaths, the government of Dina Boluarte committed arbitrary detentions and forced disappearances of demonstrators, as well as acts of violence against journalists. UN Human Rights experts have demanded a stop to the violence and an exhaustive investigation of government actions.
A government in 'survival mode'
On April 4, Dina Boluarte easily survived a motion in Congress to remove her from office. The vote, with 37 votes in favor, 64 against and ten abstentions, was led by leftist parliamentary groups who demanded the ouster of the president over protester deaths.
It was, so far, the only attempt by minority parties to remove Boluarte. Among her political enemies she can now count her own party, Peru Libre, under which she and Pedro Castillo were elected president and vice-president, respectively, in 2021.
Why did the rest of the political forces choose to support her government? In a dialogue with this media, the Peruvian political scientist Katherine Zegarra pointed out that "in a democracy, more than 60 people killed by social protests should mean the removal not only of the Cabinet, but also of the president".
Zegarra speculated that backroom deals with center and right-wing parties has allowed Boluarte to obtain support from a majority of Congress, who is even more unpopular than she is. "It is clear that they seek to remain in office as long as possible," she said. In addition, opposition by lawmakers to protester demands may be contributing to her support. "There are parliamentarians who want even more violence used against the protesters", said Zegarra. 
In Peru, a 2018 constitutional reform prohibited the immediate reelection of legislators and, if they were to vacate the current president, the Constitution requires new general elections. Of the 130 members of the current Congress, 121 are first-term politicians who for the first time in their lives, have ascended to positions for which they will receive 110 thousand Peruvian soles per year, ( about USD 29 thousand), until July 2026.
But even more profitable are the back-door deals and graft— corruption is endemic in Peru. 
Zegarra believes Boluarte "is surviving on the basis of weak, short-term agreements and it isn't clear where they will take her [politically]". 
According to a March survey conducted by the Institute of Peruvian Studies, 78% of Peruvians reject her government and 91%, the performance of the Congress.
All parties involved throwing around the word 'coup'
On the morning of December 7, then President Pedro Castillo tried to dissolve the Congress and initiate a reorganization of the judicial branch. "We made the decision to establish a 'state of exception' aimed at establishing the rule of law and democracy," he stated in his public address.
His announcement was followed by the resignation of nearly his entire Cabinet, who described his actions as a clear breakdown of constitutional order. Congress was set to vote on a motion that same day that would have removed him from office. At the beginning of the day, before Castillo's ill-fated attempt to dissolve the Peruvian government, legislators didn't have enough votes to remove Castillo. But his attempt at an "auto-coup" tipped the balance towards his dismissal.
Five days later, the governments of Mexico, Argentina, Colombia and Bolivia issued a joint communiqué recognizing Pedro Castillo as president of Peru. In public statements, Presidents Andrés Manuel López, Gustavo Petro and Luis Arce expressed their solidarity with Castillo. 
The Colombian president stated at the time that his dismissal was due to his origin "from the highlands" and "because he is poor". Petro has since been declared a "person non-grata" in Peru over comparing the actions of Peruvian security forces to nazis. 
AMLO accused Boluarte of being a "spurious president" and granted asylum to the family of Castillo, who is currently imprisoned awaiting trial for the crime of rebellion. At the end of February, the Peruvian government withdrew its ambassador from Mexico.
In this context, different sectors of the Latin American left claim that there was a coup d'état against Castillo, orchestrated by the Peruvian right wing in Parliament. But who is right?
For Zegarra, both narratives can coexist. On the one hand, she says, it is true that "the Parliament did threaten the durability of Pedro Castillo's government, via a series of attempts to remove him from office since day one".
But, she added, "it cannot be denied that Castillo's removal is a response from several institutions that wanted to preserve democracy in the face of a president who wanted to break it", she continued. "He called for a self-coup d'état, that cannot be denied and that is why he fell."
In Peru, Congressional attempts to remove presidents for "permanent moral incapacity" have become standard under all administrations. The exact meaning "of what this means Constitutionally has been lost," said Zegarra. 
Since 2016, this legal tool has been used used to remove Pedro Pablo Kuczynski, Martín Vizcarra and, more recently, Pedro Castillo— four presidents in total. 
"This legal vacuum makes all presidents who do not have majority presence in Congress incredibly weak," she said, "Which is what most presidents end up confronting by the end of their terms." 
So far Boluarte has managed to avoid the fate of her predecessors. But will she be able to do what her predecessors could not and survive to finish her term? That depends completely on tenuous alliances with a deeply unpopular and fickle Congress.
But protests, though ongoing, have slowed considerably in momentum. She seems to have survived the worst of the storm.
---
The Big Headlines in LATAM
In Chile, the 40-hour workday was approved last Tuesday. Implementation will be enacted gradually between now and 2028. The bill also establishes two other measures:

One promotes two-hour working hours so that fathers, mothers, and caregivers of children under 12 years of age may anticipate or delay the start or end of work. The second major reform updates overtime regulations to include holidays.

Ecuador is the only country in South America that has a 40-hour working hour law and now Chile will join it. In most countries, the laws still contemplate a weekly workload of around 48 hours.

Salvadoran newspaper El Faro announced yesterday that its administrative operation will move to Costa Rica. The media said it made the decision "due to a lack of conditions to continue operating". Although part of the newspaper will be based in San José, the capital of the neighboring country, most of the editors will continue to report from El Salvador.

This newspaper had become one of the few media inside the country through a investigations documenting the numerous violations of human rights in this country, so much so that it had become a "stone in the shoe" in the words of President Nayib Bukele. 
The dollar in Colombia reached its lowest level in six months. On April 13, the currency opened at $4,465.95 Colombian pesos, $28.3 below the Representative Market Rate (TRM). This change is due to the fact that inflation in the United States slowed down by 5% and affected several emerging countries in the region. According to some experts, although the fall will continue, it will not be sustained in the long term.
---
What we're writing:
This week in the Ship's Log, for paid PWS subscribers, Joshua talked about how reporting on borders for years, and absorbing trauma as part of daily life, has affected him personally.
Like all who spend time at borders, this work dehumanized me. When I first started on this beat, especially in Cúcuta in that time period, the only way I could deal with the horrors that borders create was to distance myself emotionally— to develop an armor of indifference as a survival strategy.
Daniela wrote a short article for El País about the precarious conditions in which thousands of Embera indigenous children study in Risaralda, in the northwest of Colombia.

If you haven't already, please consider becoming a paid subscriber for just $5/month to help support us continue doing what we do best: bring you the untold stories as well as local analysis on the stories in the international headlines.
If you have, thank you.
Spanish word of the week:
autogolpe: "self-coup".
This word doesn't exist in English, and a literal translation doesn't serve it justice. An autogolpe is a power grab carried out by the government in power, to serve their own interests. 
One could think of Trump's actions to discredit and overturn elections held during his presidency as a failed autogolpe— a failed attempt to circumvent or dismantle democratic processes or institutions in a bid to remain in power.
A number of Peruvian presidents have successfully carried out autogolpes, Fujimori the most recent among them. But the Peruvian congress, as recent history shows, is even more successful at disbarring presidents. Whether that is a "coup" in the normal sense of the word is a matter that seems to be open to debate.
But autogolpe is a useful term. We should consider adopting it, or inventing a better translation.
Hasta pronto, piratas!