Discover more from Pirate Wire Services
Frontlines Indy journalism on Latin America
Over 1,000 subscribers
Pirate Wire Services Sails into 2023: a Recap, and a message from our crew
Birthed in the fires of protest, this independent media collective has expanded and grown with your help, and we'd like to say thank you
Avast me holiday hearties!
It has been a dramatic year in Latin America and PWS was here for all of it. From tense and historic elections in Colombia and Brazil, to protests in Ecuador and Chile, to armed conflict and narco gangs in Colombia, to the consolidation of power of a new quasi-dictator in El Salvador.
We wanted to take a look at some of our favorite stories from this year, and include comments from our crew on why they're proud of the work they've done, and what makes us different from other independent media companies.  
We're about to take a two week break to properly ring in the holidays before jumping back into the news battles in January. We're also rethinking our format a bit and would love your input. What topics do you want to see more coverage of? Do you prefer the written pieces or the podcast series?
What are your favorite aspects of the Goodship Capybara? Which could be improved We'd love to hear from you.
In the meantime, the crew:
Amy Booth, in Buenos Aires Argentina
Pirate Wire Services has gone from strength to strength in 2022: we've gone bilingual, launched a podcast, and more than quadrupled our subscriber base. Many of these are stories I'm proud to have been able to publish, from Josh and Dani's original interview with Colombian Vice-President elect Francia Márquez to Paulo's podcast on the shooting of journalists in Chile that brought this horrific incident to the international arena before the major media picked it up. An increasing number of our readers are from internationally renowned news, radio and TV channels, think tanks, NGOs, universities, a fact which I like to hope speaks to the quality and originality of our work.
I'd like to take this opportunity to tell you all that in 2023, I'll be taking a step back from the day-to-day co-editing and reporting of Pirate Wire Services. This is because I've become managing editor at a very exciting project that will require all hands on deck aboard another ship. I can't say any more just yet. But for now, I feel like I'm stepping off the Good Ship Capybara with the south wind blowing strong in its sails. I'll be in close contact with the crew, and there's every chance you'll see me popping in now and then with missives from Buenos Aires.
Joshua Collins in Bogotá, Colombia
Pirate Wire Services is a collective we started to provide on-the-ground coverage from the countries in Latin America where we live, and to find a place for stories that don't fit into the traditional media model. 
For me personally, the kernel of the PWS idea arose from frustration with English-language coverage of Colombian protests in 2021. I don't mean to claim that English-language coverage was bad per se, but it was often executed from 1000's of miles away and centered the voices of analysts and political experts— most of whom had never actually spent time in the streets at the protests they were analyzing. 
The idea for PWS was born from a desire to center the voices of those dodging police batons and bleeding in the streets, and to do it with journalists who are from the region and understand the invaluable context that many US and European analysts don't. 
Since then, PWS has undergone a series of permutations— a podcast series, field reporting from conflict regions, burning shoe-leather at women's marches, and covered national elections in four countries. I'm supposed to be writing about the PWS story I'm most proud of this year, but the truth is, I'm proud of them all. 
I'm proud of the crew who has weathered more than their share of storms, and I'm proud that we're still standing as an organization. 
Thank you from the bottom of my heart for making that possible.
Daniela Díaz, in Bogotá Colombia
Daniela asked instead of a lengthy belly gazing statement on why her work is so important, we simply share some of it. These photos are from a Ship's Log she did for PWS (previously only available to paid subscribers) on a march in Colombia protesting rising violence against LGBTIQ+ communities.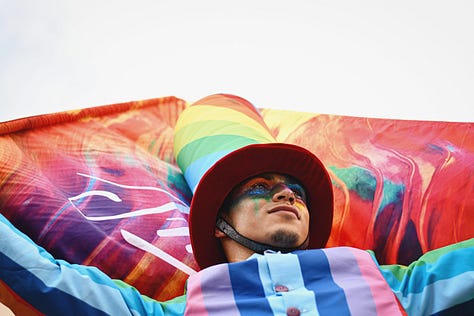 "I like this series of photos because it was my first day on an important job (El Tiempo, where Daniela is a regular correspondent) this year and what a first day! It was an opportunity to document PRIDE as wall, people celebrate being alive and loving whoever they want in a world where that is often forbidden. Although I have had technical problems with my photographic equipment lately, it has always been photojournalism that fills my soul and I think the photos show it". 
Paulo is currently on sabbatical in the great wild and exotic wasteland that is Europe.
Thank you again for reading us this year and for sharing the journey. We hope your holidays are festive. And if you haven't taken out a paid subscription, please consider supporting our work by doing so.
The big headlines in Latin America
Protests have grown considerably in Peru since former president Castillo was removed from office, and a forceful police response has now claimed the lives of 20 protesters. Demonstrators have demanded the resignation of the Peruvian Congress, as well as current president Dina Boluarte.
Boluarte has refused to resign, but has called on new Congressional elections to placate protesters- a measure which Congress roundly rejects.

Meanwhile, Castillo, who is detention awaiting charges of "rebellion", claims to be the legitimate president, and blames Congress for what he calls a "coup".  
Bolsonaro supporters in Brazil attacked a Police Headquarters in the city of Brasilia Monday. Angered by the arrest of a pro-Bolsonaro politician they blocked roads, set police cars on fire, and threw rocks at officers, and attempted to break into the station where the politician, José Acácio Serere Xavante, was being detained. 
Police said the attempt was thwarted. Protesters believe the elections in Brazil were fraudulent, a claim made without evidence that has been roundly rejected by election officials
In Colombia, the creation of a new Ministry of Equality was ratified by Congress. The new governmental body will be led by Vice President Francia Márquez, the country's first Black VP. Daniela broke down the details, and why that is a huge deal for Afro-Colombian activists as well as women's groups in this week's PWS Ship's Log for paid subscribers. 
What we're writing
Peace negotiations between the Colombian government and rebel group ELN came to a close this Monday. We've seen a lot of analysis from experts in the capital, Bogota, but little coverage on people who actually live in regions with a strong ELN presence.
Joshua wrote about their perspectives, and their doubts, which are considerable, this week for NACLA. 
Daniela did this amazing Spanish language piece on-the-ground from Arauca, Colombia, about how conflict has accelerated this year— from car bombs, to shootouts to targeted killings, ELN and a dissident group from the FARC have gone to war. 
Spanish word of the week:
This week, Joshua found himself trying to translate the phrase "shooting the shit", (hanging out with and talking about random subjects with someone just to enjoy their company) into Spanish. After a number of failed attempts to capture the meaning precisely, he turned to social media for help and the bilingual world did not disappoint
Options: 
Hablar mierda: to talk shit, though this can have negative connotations like "Julia solo está hablando mierda", it can also be used to mean "shooting the shit": "Julia, ven a mi casa, tomamos unas cervezas y hablamos mierda"

Hablar tonterías: to talk about nonsense. Very similar in usage to "hablar mierda".

Hablar paja: when used as descriptor for one person, "Julia habla pura para", it means "she is full of shit,", but when used with a friend, or in plural, it means "let's hang out and shoot the shit" i.e: "Hablamos paja un rato"

In Argentina, the verb most likely to be used in "Boludear", which means pretty much the same thing as the other options listed here.